"Christmas cookies and happy hearts, this is how the holiday starts." – Unknown
Tis the season, y'all! Christmastime is here and I am so excited to do all the holiday things: deck the halls, listen to Christmas music, trim the tree, watch Hallmark Christmas movies, wrap gifts, and my favorite of ALL the Christmas things, bake cookies!
Today I am sharing one of my favorite Christmas cookie recipes with you, Almond Snowball Cookies. Not only are you going to get my delicious cookie recipe, but I am joining some incredibly talented bloggers who are sharing their favorite Christmas cookie recipes with you too.
If you have joined me from my sweet and talented friend, Kelly's blog, The Tattered Pew, "Welcome!" I'm so happy you've joined me here. Kelly's Quick and Easy Christmas Shortbread Cookies look divine, don't they?! I can't wait to try all of the delicious cookie recipes shared in this blog hop. Thank heaven for stretchy pants!
A little history behind Almond Snowball Cookies.
My delicious and easy recipe for Almond Snowball Cookies is inspired by my maternal grandmother's recipe for her Almond Crescent Cookies. These buttery cookies with a hint of crunch from toasted almonds, covered in decadent powdered sugar are perfect for the holiday season. Although I love my grandmother's recipe, I felt like it needed a little more "oomph!" I also got tired of my crescents breaking in the cookie jar before I could eat them.
The simple additions I incorporated into my grandmother's recipe elevated it perfectly while still keeping the flavors true to the cookies I remember from my childhood. Added bonus: with the cookies now made into snowballs, I no longer had broken crescent pieces in the cookie jar which meant I had more cookies to eat. Woohoo!
The first time I tasted my new version of my grandmother's inspired cookie recipe, I was immediately brought back to her kitchen table at Christmastime. I remembered her sitting next to me as we giggled at my grandpa snoring in his chair watching football. We each had a cup of hot cocoa in front of us and between us was a plate of her delicious cookies. When that nostalgic memory surfaced, I knew I got my recipe right.
My Almond Snowball Cookies have now become a family favorite here on the farm. Thank you for the inspiration grandma!
A match made in heaven: Homemade Vanilla and Almond Snowball Cookies.
Although baking at Christmas is always something I look forward to, I was especially excited to bake this year because of my homemade vanilla extract. I made it last year, so by this holiday season, it had been perfectly aged. I was very anxious to use it in my first batch of Christmas cookies this year. Let me tell you, it was definitely worth the wait!
To dunk or not to dunk?…
Are you a "dunker"? I am. There are two things that are a must for me when it comes to cookies, especially Christmas cookies. They must be fresh (preferably warm) and they must be dunkable. I love to dunk my cookies in milk, coffee, or cocoa. I'm not sure why…I think I inherited the trait from the king of dunking, my father.
My Almond Snowball Cookies are perfect for dunking!
Happy holidays!
I hope you enjoy this recipe and all the recipes shared today by my incredibly talented friends. Be sure you go visit my friend, Brendt at She Gave It A Go where she is sharing a recipe for her Mom's Oatmeal Chocolate Chip Cookies. They look so delicious!
Thank you for joining me here today. For more farmhouse inspiration, join me on Instagram and Pinterest.
If you are looking for more easy and delicious Christmas cookie recipes, you may enjoy my recipes for Iced Ginger Cookies and Sugar Cookies with Royal Icing too. Happy baking! From my family to yours, Merry Christmas. Enjoy this holiday season.
Holiday Cookie Exchange Blog Hop
Today I'm joined by some of my blogging friends who are also sharing their delicious holiday cookie recipes with you! Just click on the links below the images to be taken to their post.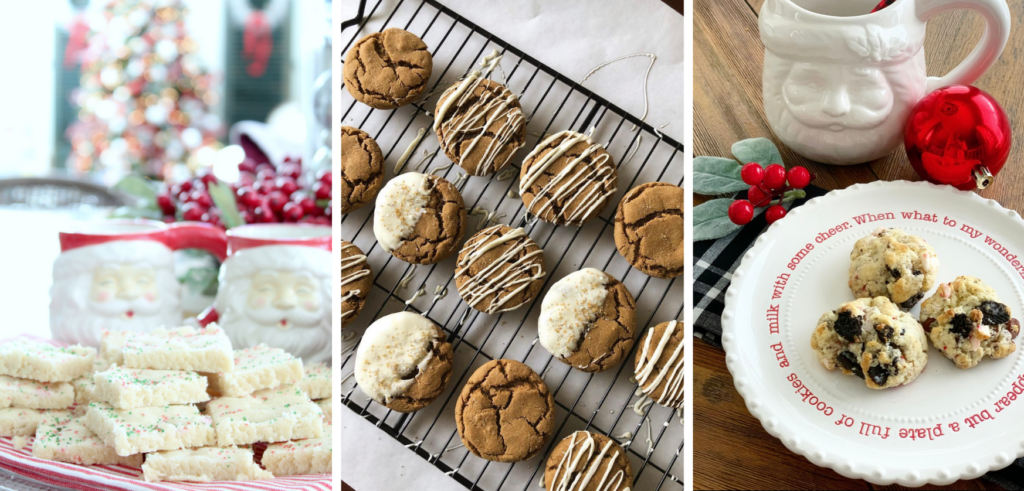 Quick And Easy Christmas Shortbread Cookies / / Molasses Cookies With White Chocolate / / Peppermint Chocolate Chunk Cookies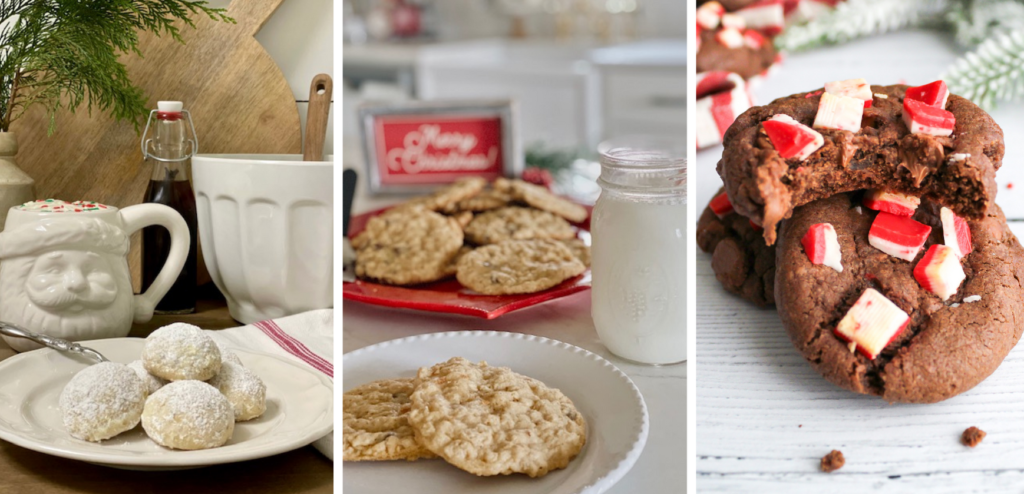 Almond Snowball Cookies / / Mom's Oatmeal Chocolate Chip Cookies / / Double Chocolate Chip Peppermint Cookies