"People who love to eat are always the best people." -Julia Child
Seriously y'all, if you don't love to eat, then we may need to re-evaluate our relationship. I'm just kidding, I love you no matter what, but if you love to eat, I REALLY love you. I love to eat and I love to cook! If you're joining me from Bethany, Crisp Collective, through the Fall Festival Recipe Tour, welcome! I'm so excited you've joined me in the kitchen. Spending time in the kitchen year round makes me very happy. In fall and winter though, the kitchen is truly my happy place. I love making comfort food for my family and our guests at the farm. This Butternut Squash Ginger Soup recipe was inspired by the abundant amount of squash we get on the farm in the fall. I love to serve it as a starter when I cook a tenderloin or a pork roast. It's also great as an entree with a fresh salad and some grilled homemade bread for a lighter dinner. Since living on the farm, I have gained a greater appreciation and a true love for cooking recipes with fewer ingredients to keep the flavors as authentic and pure as possible. I hope you and your family enjoy this recipe as much as my family and I do. Bon Appetit!
Butternut Squash and Ginger Soup
Ingredients
2 pounds butternut squash- seeded, peeled and cut into 1-2 inch cubes
1 tablespoon extra virgin olive oil
2 teaspoons fresh rosemary- chopped
salt and pepper
2 tablespoons butter
2 cups onion, chopped
6 cups chicken broth
2 tablespoons fresh ginger- grated
Italian parsley, for garnish
Preheat oven to 425 degrees. In a large bowl, toss butternut squash cubes with olive oil, salt, pepper, and rosemary. Spread the squash in a single layer on a cookie sheet and roast in the oven for 20 minutes. Meanwhile, in a large pot melt butter until it just starts to brown. Add onions and cook, stirring often, until tender. Add chicken broth, roasted squash, and ginger to the pot. Reduce heat and simmer for 20-30 minutes while flavors marry.
Remove the pot from the heat and transfer ingredients to a blender. Puree in batches. Be careful not to overfill the blender. Return the soup to the pot. If soup is too thick, you can add more chicken broth for desired consistency. Add salt and pepper to desired taste. Stir until heated through.
Serve topped with parsley.
---
I hope you enjoy this recipe as much as I loved sharing it with you. Thank you for joining me today. On Friday, I will be sharing some fall tablescapes with you when another incredibly talented group of bloggers and I get together to share more fall inspiration. I hope you will join me then, I look forward to it!
Please don't forget to visit my sweet friend, Kendra at Joy in Our Home to seeing what deliciousness she's cooking up for y'all today. After that, be sure to check out the rest of the incredibly talented bloggers listed below who are sharing fall inspired recipes with you through the Fall Festival Recipe Tour. Enjoy!
---
Fall Recipes on Wednesday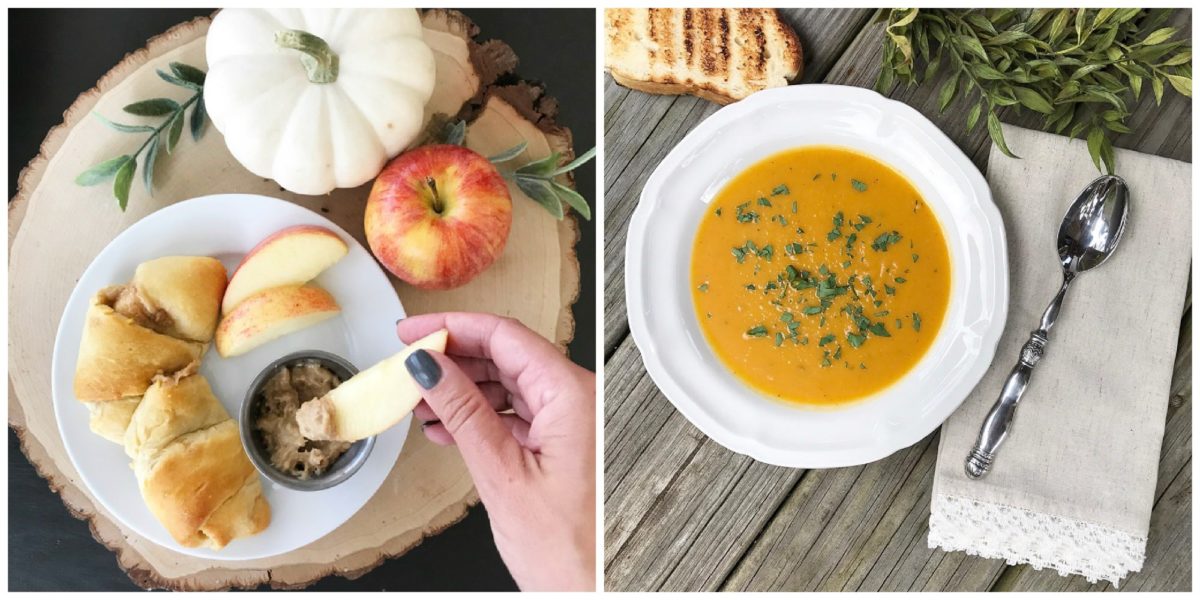 Joy In Our Home
With Two Spoons 
Honey n Hydrangea
Brooklyn Farm Girl
Crisp Collective
Cali Girl In A Southern World